by Colin Beardsley on November 10, 2011 Comments (0)
Does this sound like a cyclist you know?

 
The perfect frame. Check. High-performance wheels.  Check. The latest parts package (gruppo). Check. A comprehensive bike fit.  Anyone? 
These are the same people who wouldn't dare run in shoes that were too tight or wear a suit two sizes too big. Yet, they're out riding hundreds of miles, enduring mysterious pains and ailments, all because their bike wasn't properly fit to their body and riding style from the beginning.
Retul offers the ability to measure to sub millimeter accuracy. 
So what's got the bee in our seatpost about bike fit?
In the shop and on the road, your professionals at Studio Velo see cyclists contorted on the bike, stuck in incredibly inefficient riding positions. Typically, we see fit issues centered on core areas including:
            •            Saddles — too high, too low or improperly tilted
            •            Cleats misplaced, increasing the risk to knees or hips
            •            Handlebar reach — over or under-extended, too longer or too short
            •            Unspoken penal or vaginal numbness — a common pain among  riders
Bike fitting by the Pro:
More Power, More Efficiency, Zero Pain 
Fit before all else.
Fit is one of the most basic, central tenets of our business. A proper bike fit is the most important part of riding a current bike or buying a new one. The dimensions of the bike are obviously important, ie., the size of the bike, as is every aspect of your relationship to your bike: Your posture, your pedaling mechanics, your power and efficiency are all important and critical outputs of a good bike fit.  
"Our commitment is to fit the bike to you, not fit you to the bike. We not only believe strongly in this, we guarantee it."
As one of the partners at Studio Velo, it is this principle that draws me back to conducting all of our bike fitting, both in Mill Valley and in our fit studio in San Francisco.  Each and every day, I apply not only scientific research and study but also exhaustive training and over a decade of fitting experience. Certainly is helps that Studio Velo is uniquely outfitted with the best fit tools in the business, something no other shop in the area can claim. Located inside the world-class cycling and fitness center Velo SF in San Francisco, we utilize one of the biggest innovations in fit technology in the last decade: The Dynamic Fit Unit (DFU). The DFU visualizes real time changes to cycling position while the rider is in motion on the bike. This --in conjunction with the Retul fit system -- lets us develop a position ideal for your body, with zero limitations.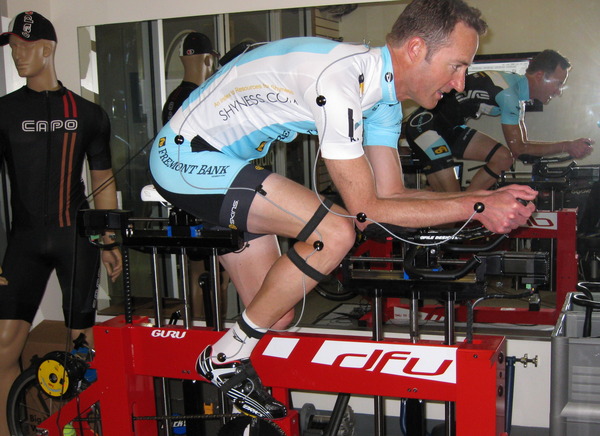 Retul combined with the DFU is unmatched in bike fitting. 
Designed and engineered by one of the world's most innovative bicycle manufactures, Guru Bicycles, the DFU optimizes your position on the bike with improved comfort, power and efficiency. 
A good fit will keep you riding and injury free for years to come. It will not only increase your performance and efficiency, but also make you want to hop on your bike and go for a ride. No pain, major gain.
Colin Beardsley, former pro cyclist with over 15-plus years of shop experience, helps all riders achieve a more perfect relationship with his or her bike. His pedigree includes working with early fit pioneer Clay Mankin, to racing at the professional level, and maintaining a presence in shops around the Bay Area for over 15 years. As the premier bike fit specialist in the Bay Area, Colin was the first to introduce the Retul Fit system locally. His best tools, however, are his eyes and ears.  Colin listens closely to address any possible biomechanical problem, often seeing issues riders are unaware of.
31 Miller Avenue, Mill Valley, CA
415-380-1882