SV Tours Japan's Southern Islands and Kyushu
by Taylor Walker
Photos: Atsushi Tanno, Brad Sauber & SV Guests
Day 1: Zen and the art of a perfect first day
24 km | 596m
The group met at Kansai (Osaka) Airport and quickly transferred via train to Onomichi on the south coast of Honshu. A short walk from the station led us to the beginning of the renowned 2.5 km Temple Walk, comprised of a combination of 25 Buddhist temples and Shinto shrines. The walk's apogee was a high hill overlooking the town and the many islands below, many of which we would be cycling across in the days to come. After checking into the hip Onomichi U2 Hotel Cycle, we headed out on a short ride in the hills above Onomichi on our bikes which had been assembled by our ace Japanese and SV staff. The golden, late-afternoon light shimmered through the trees and across the small roads we spun-up, logging about 24 km and 596 vertical meters. A perfect shake out ride to acclimate.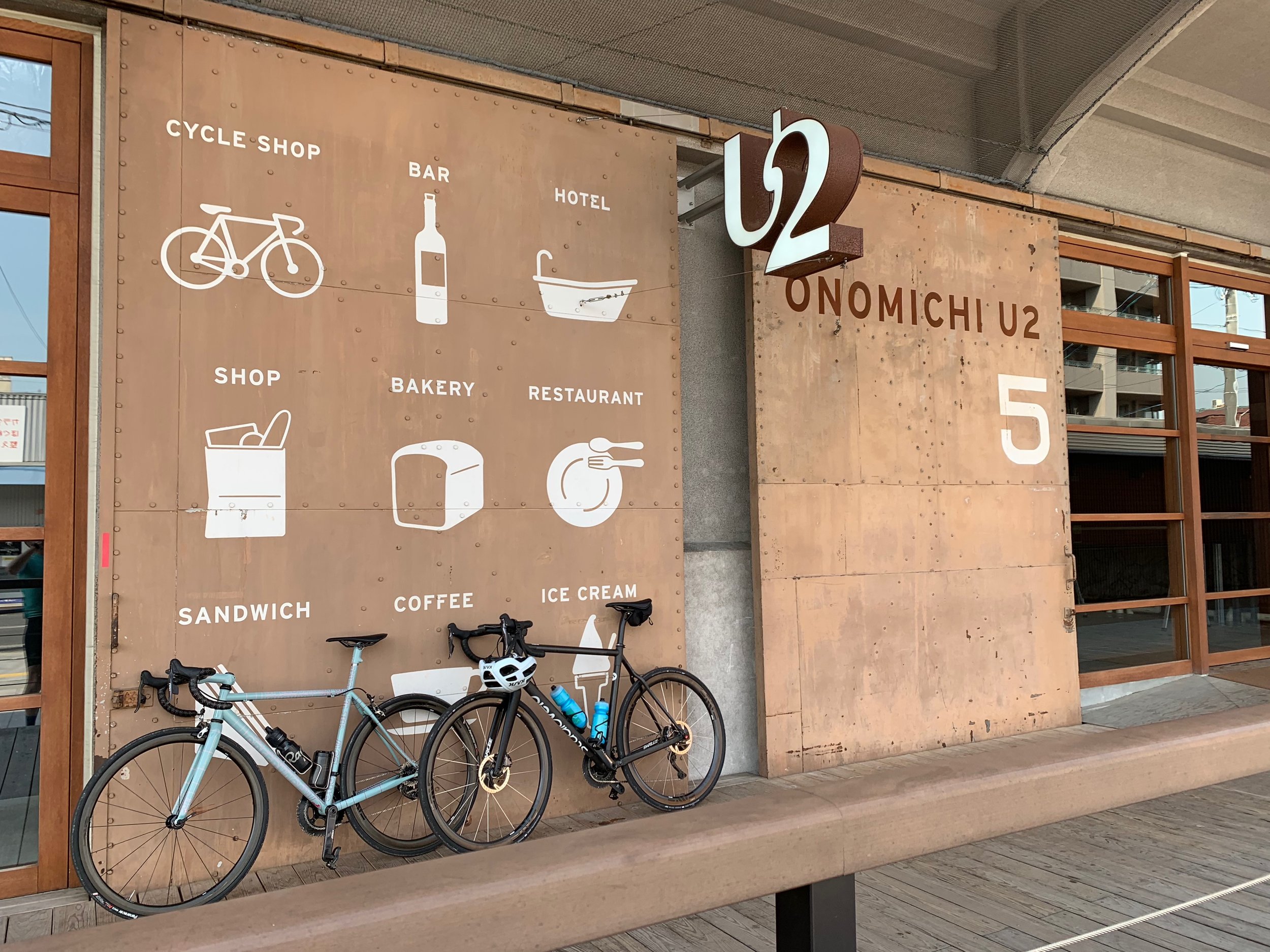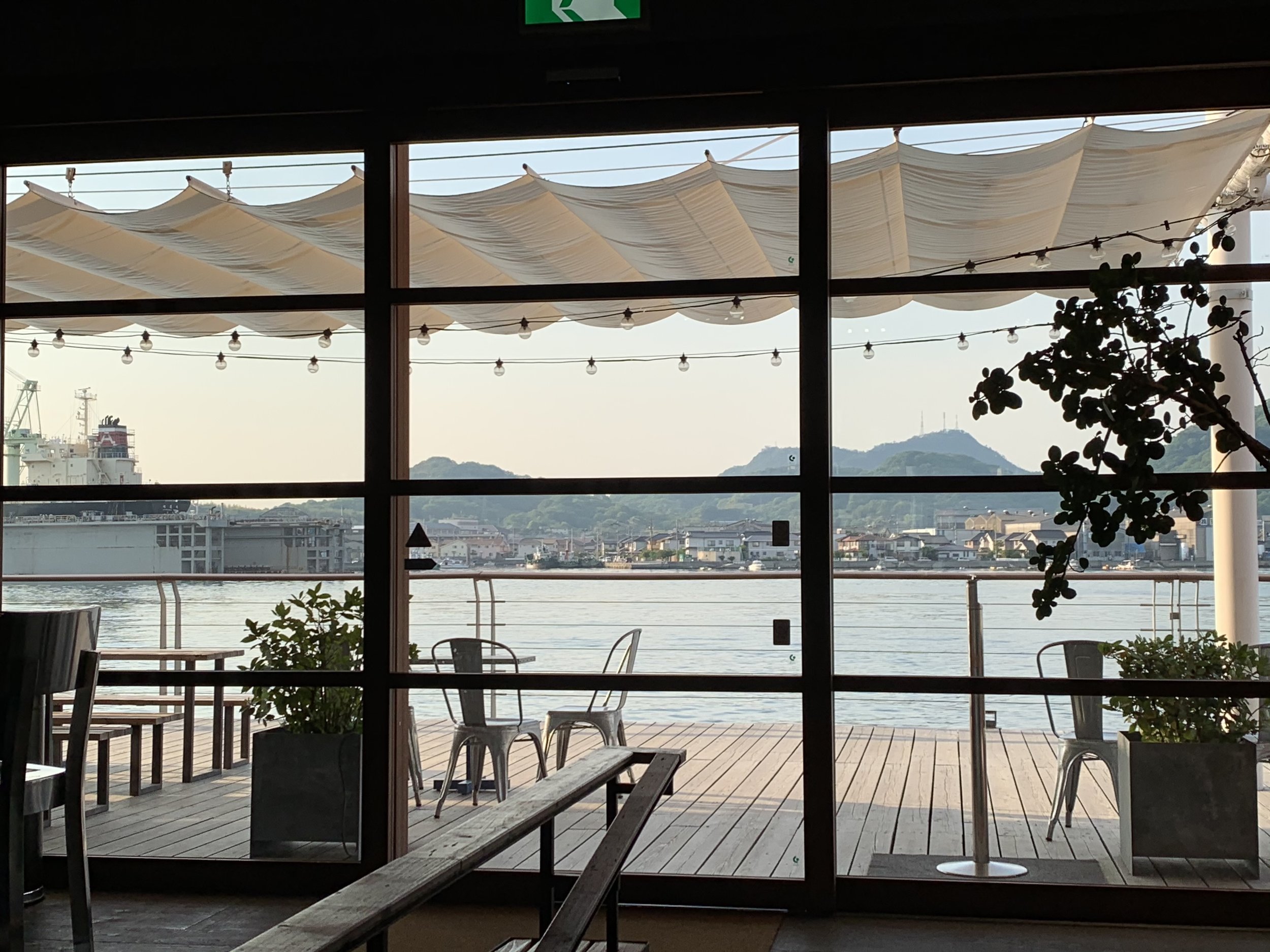 Day 2: Ferries + riding + bridges + riding = nonstop smiles
64 km | 1,650 m
Our first full day of riding began with a ferry ride from Onomichi to Shimanami Kaido— the bicycle path that weaves its way across many islands of the Setto Inland Sea via bridges and ferries. Kilometer after kilometer of rolling, weaving bike paths delighted the group with stunning views of other islands and the sea. We then turned our sights on Mt. Sekizen, a stout climb with rewarding views in every direction before heading back to Onomichi U2 Hotel Cycle for cocktails and a delicious dinner.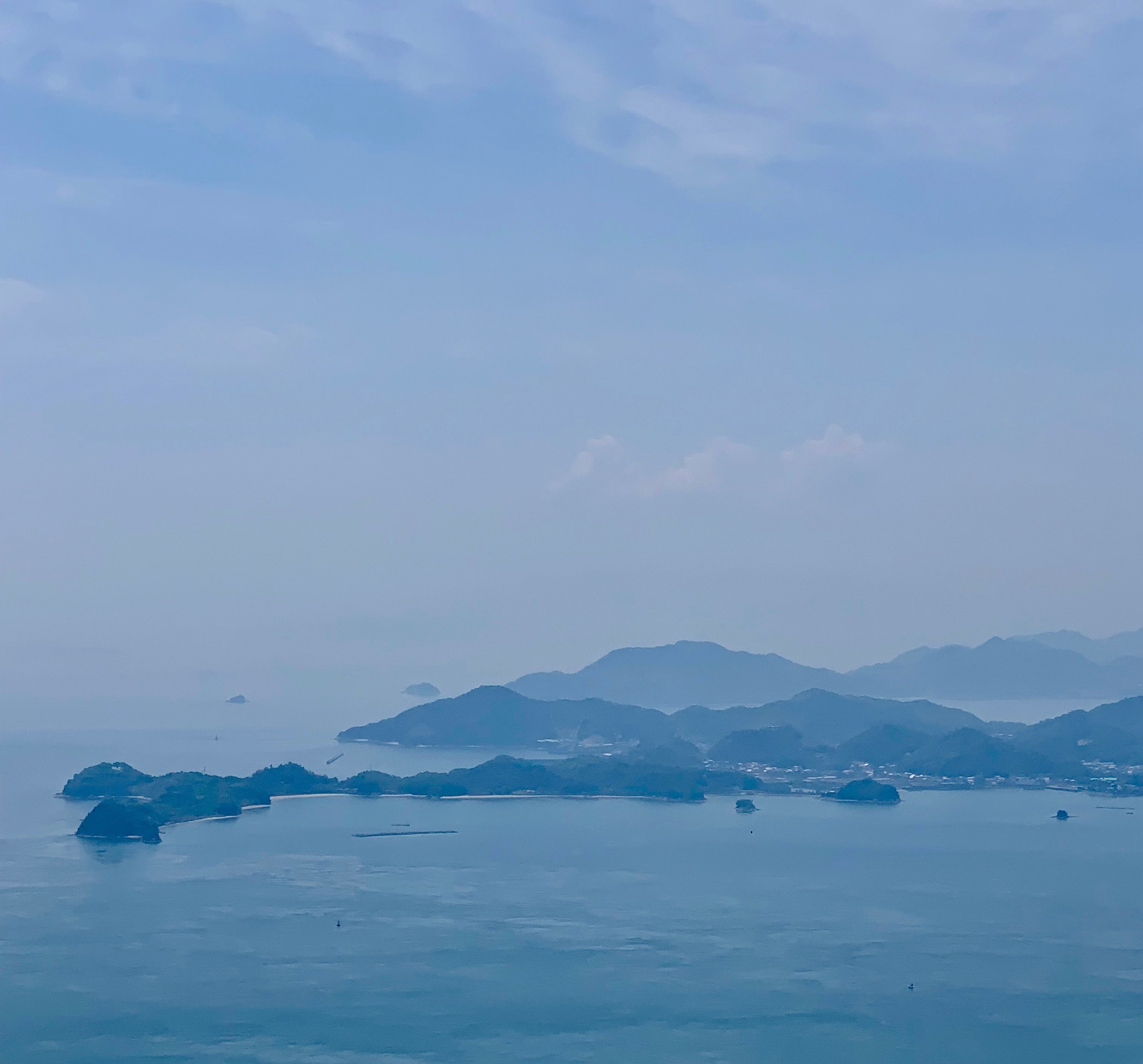 Day 3: Coastal cruising and reflection
102 km | 647 m
Onomichi to Kurume. A second day on the Shimanami Kaido, cruising the coastline of 11 islands in a westerly direction – simply stunning! After arriving in Kurume and changing into our street clothes, we transferred to Hiroshima, where we had a beautiful and moving experience at the Hiroshima Peace Park. After checking into our luxe accommodations, we headed out to dinner in Okonomiyaki Village, where every open-stall restaurant serves a slightly different version of okonomiyaki, a pancake/yakisoba noodle/cabbage/egg and secret sauce wonder that is not to be missed!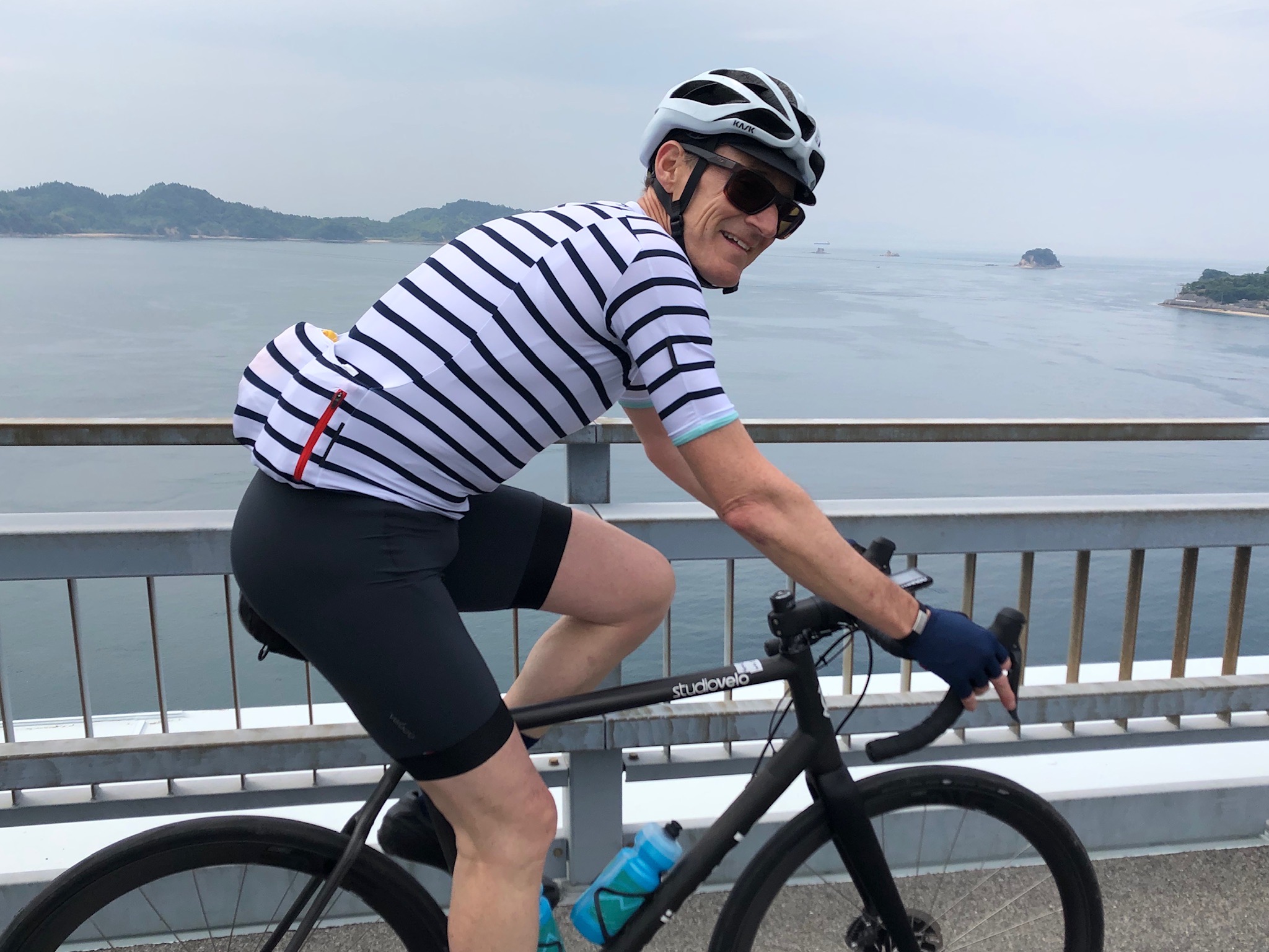 Day 4: The best of rural inland Japan: tea farms and new friends
90 km | 2,085 m
Kurume to Hita. After a bullet train transfer to the western island of Kyushu, we set off on arguably the most varied and spectacular day of riding we enjoyed all week. The sun shone, a cool breeze kept us refreshed, and we danced on the pedals up through a multitude of tea farms, deep forests with secret, narrowly-paved roads, terraced rice fields, and swooped down canyons with wonderful switchbacks. Then on through a tiny village or two and on to the next forest or tea farm. The day was made even more special by lunch at a tranquil, rustic soba noodle restaurant. The chef, assistant chef and server were a husband-wife-and-daughter team, the couple in their late 70s. The care they showed for us and joy in their craft was inspiring. The images of their goodbyes to us say it all. After 90 km and 2,085 vertical meters of pure gold, we arrived at our most stunning hotel, Umehibiki, which provided us with what might be described as "zen-luxury"; everything was beautiful and pared down to its essence: the onsenhot springs, the ten-course kaiseki dinner, and the heavenly beds.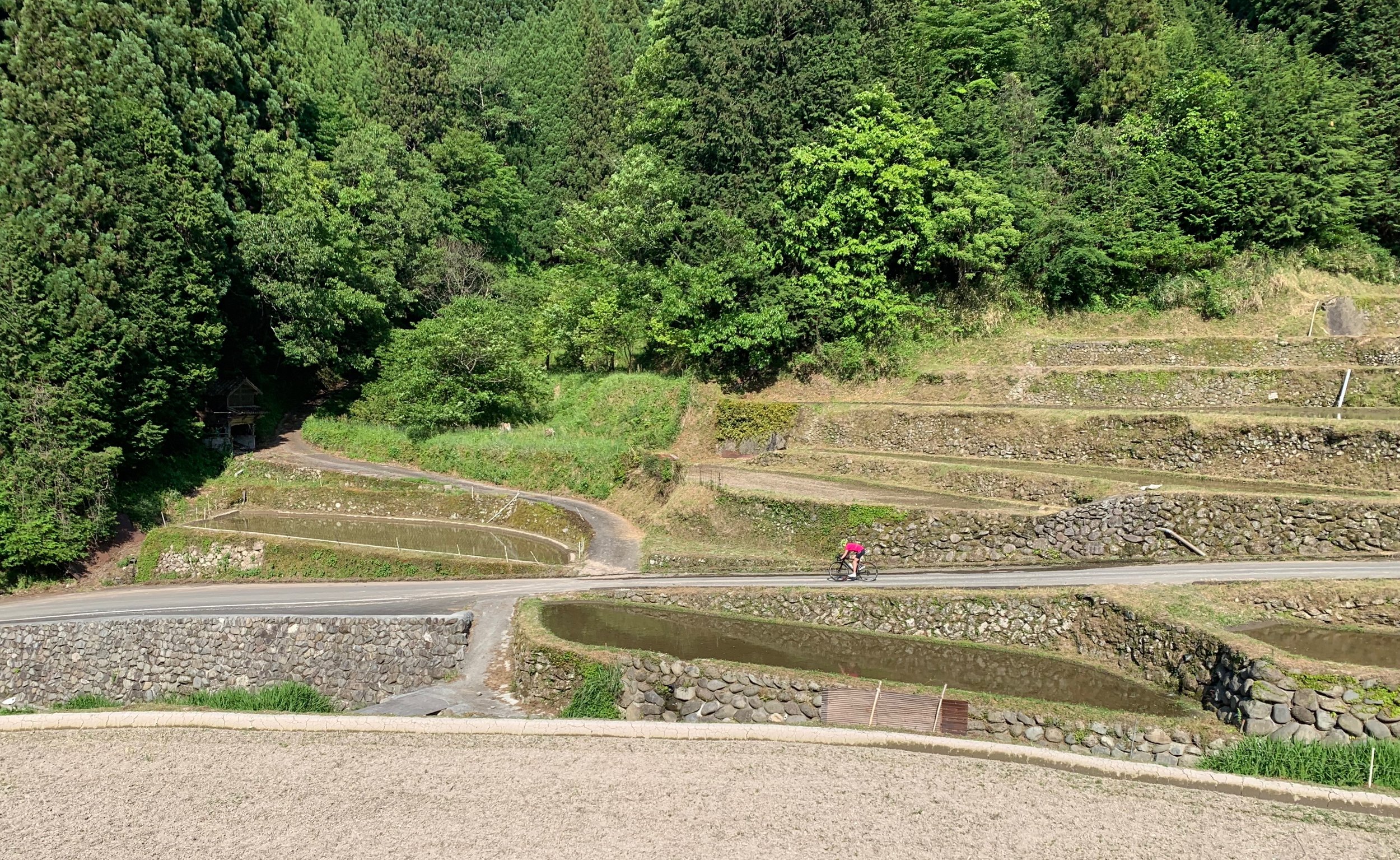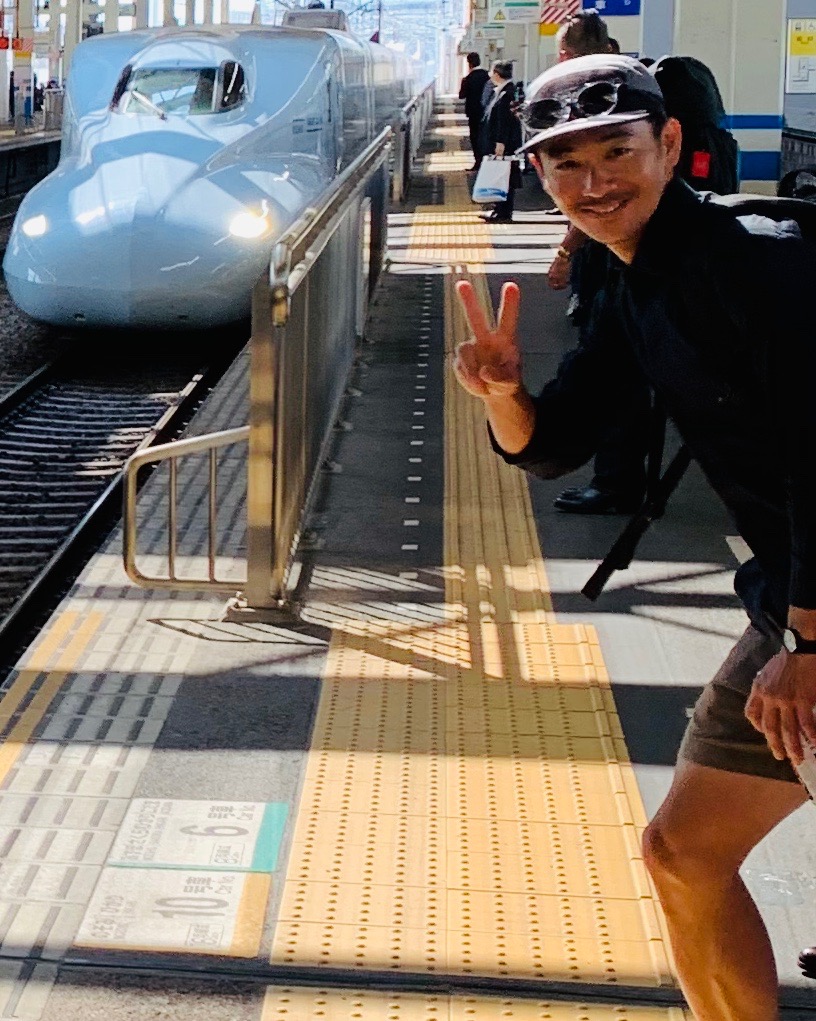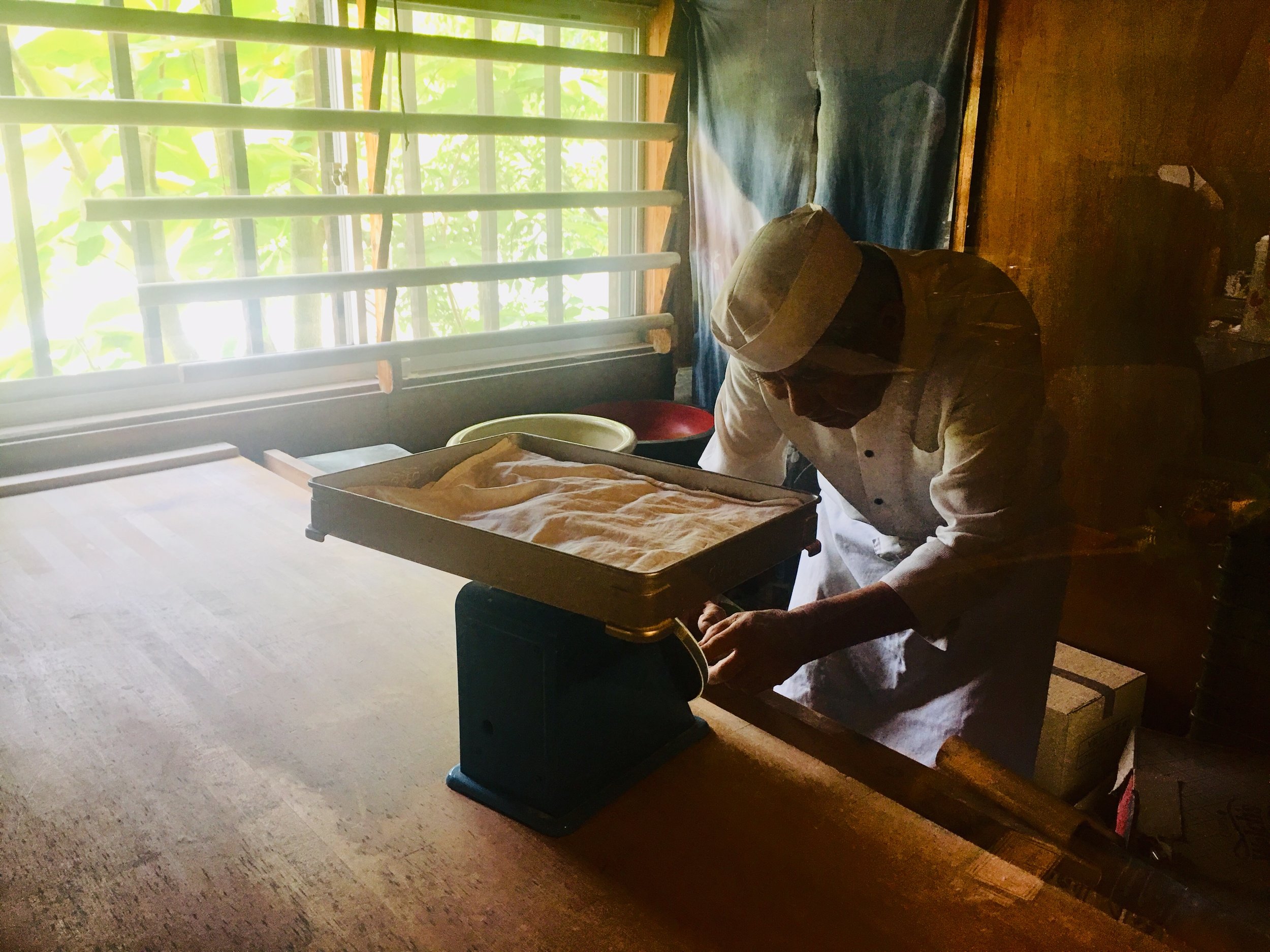 Day 5 The best of rural inland Japan, shiitake style!
85 km | 2,132 m
Hita to Aso. Another beautiful day dawned and we were again riding through magical rural Kyushu. A signature feature of this day was riding through forests in which shiitakemushrooms are grown on cut logs, one-meter in length, and placed near-vertically against thin fences for as far as the eye can see. Exiting the mushroom forests, we found ourselves rolling across high, lush pastures populated with red cows and views of higher hills and long vistas of Mt. Aso, its neighboring peaks and the massive ancient caldera that makes up the Aso valley floor. Coming out of one shiitakeforest, we rolled through a little village with volcanic steam pouring out of creeks and seams in the earth almost everywhere. The steaming hot water was being used at one source by a woman cooking over it with a cast iron pot. Hot water appeared to be piped into many houses. We were certainly in volcano country now! Onto more grassy meadows that repeatedly gave way to beautiful bridges hundreds of meters above river valleys, affording us unique views of the extensive mountains and forests beside and below us. Simply fantastic. As we pulled into the town of Aso, we looked forward to our big day on the volcano itself the next day.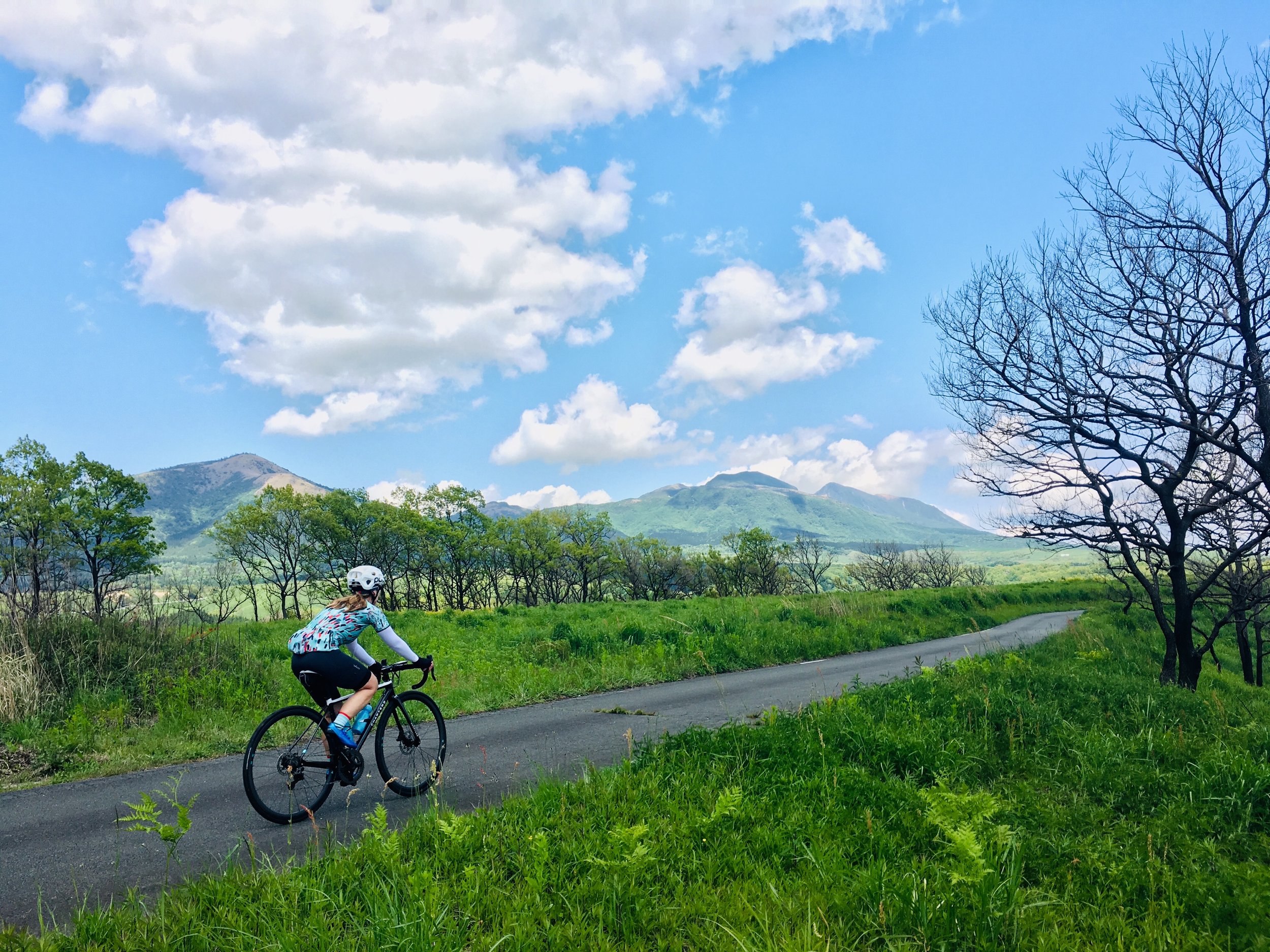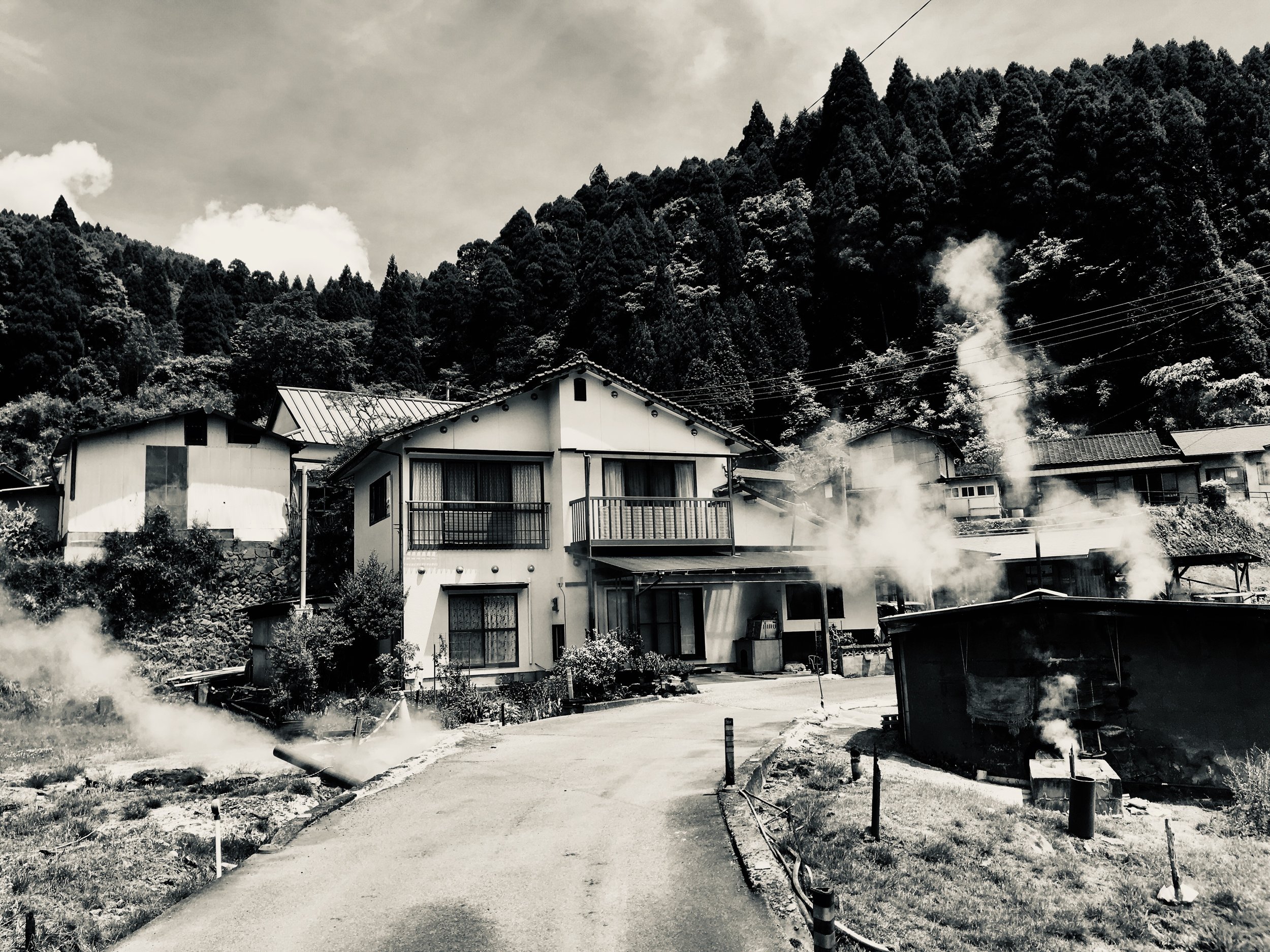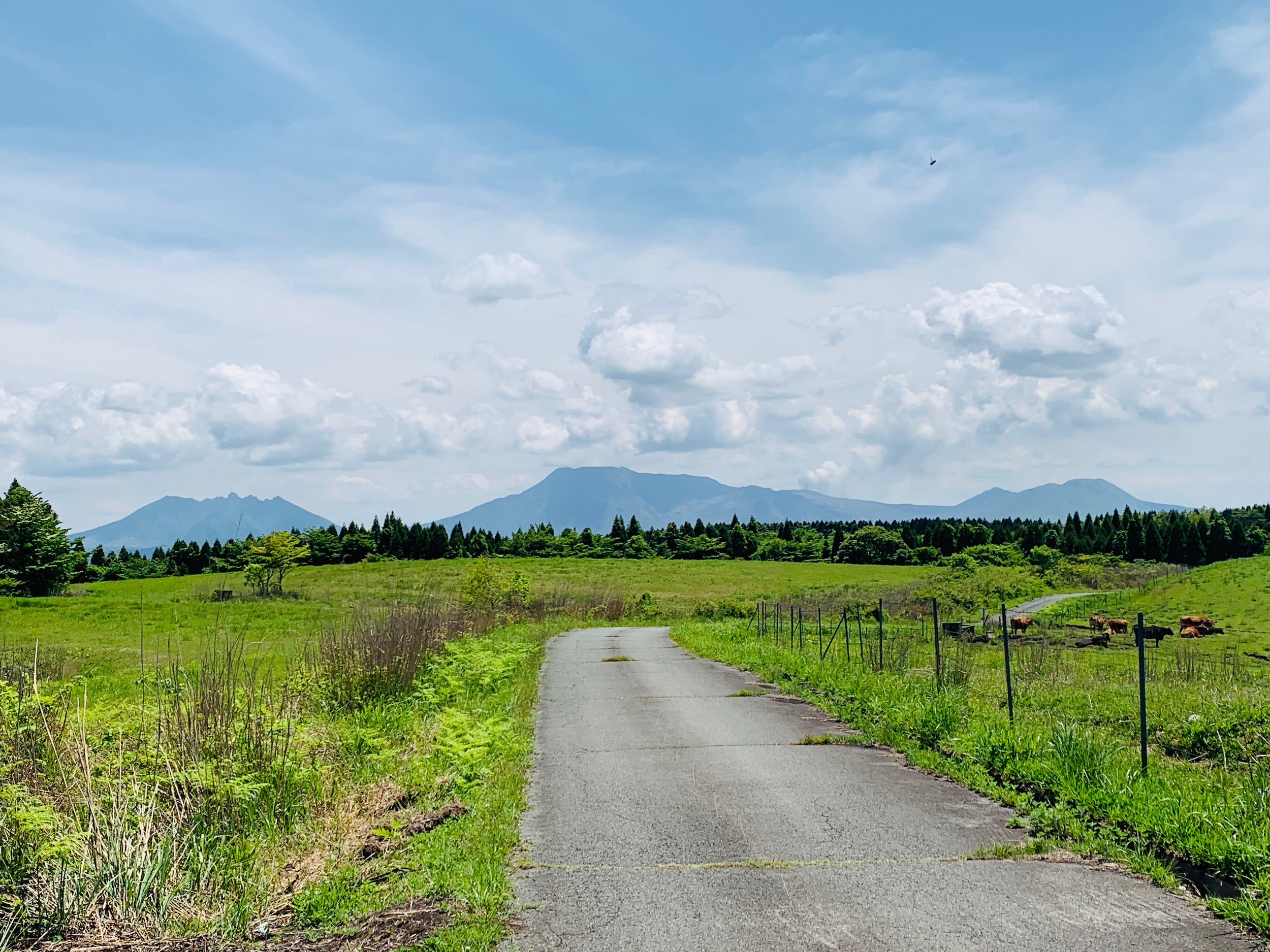 Day 6:
71 km | 1,410 m
Mt. Aso is the largest active volcano in Japan and it resides within Aso Kuju National Park. With a beautiful loop of about 71 km and 1,410 vertical meters of climbing scheduled, we pacelined it across the valley to the base of Mt. Aso. As the road pitched upward, each of us found our rhythm and went to work. The riding was initially serpentine and lush, but soon gave way to an increasingly open and more rugged landscape -- a contrast to our days in the lower tea fields and forests. Elevation gain brought satisfaction and cooler weather, and the wind jackets were busted out as we grabbed rice and sushi cakes and hydration from the van at the highest ridable point on the volcano. The images speak for themselves. After a fantastic descent, we continued our loop and made one more ascent, this time on a smaller (and steeper) neighboring mountain before heading for home.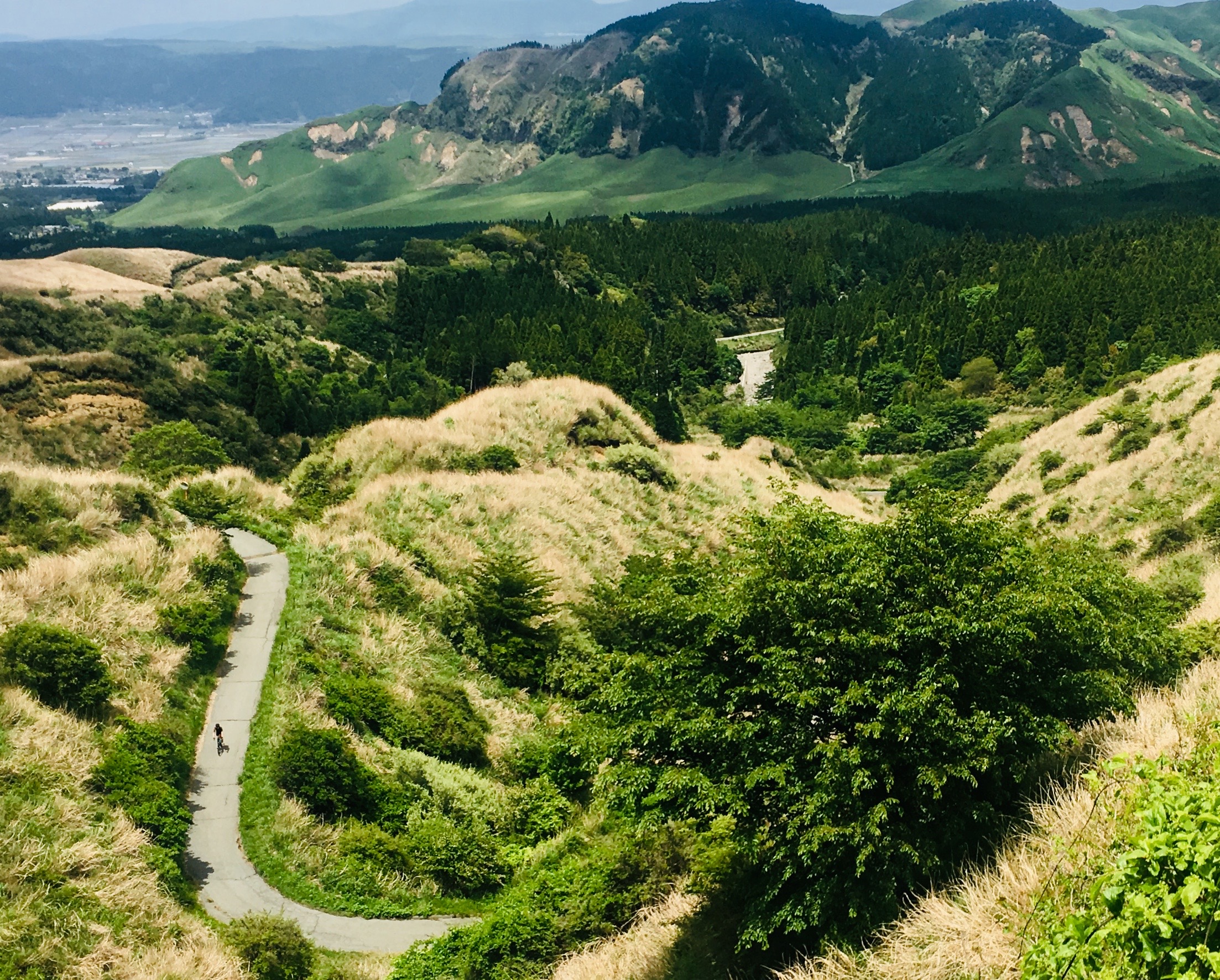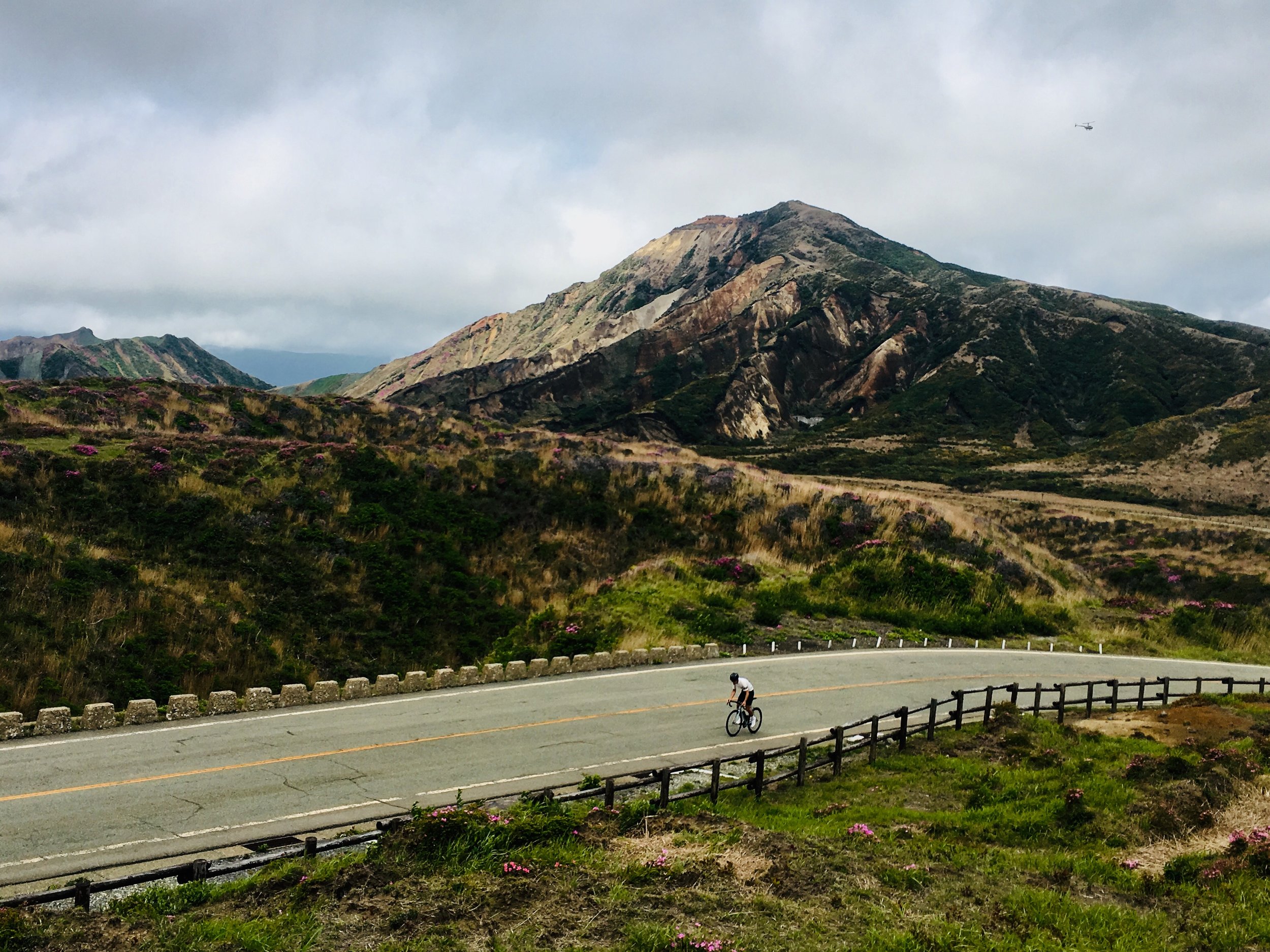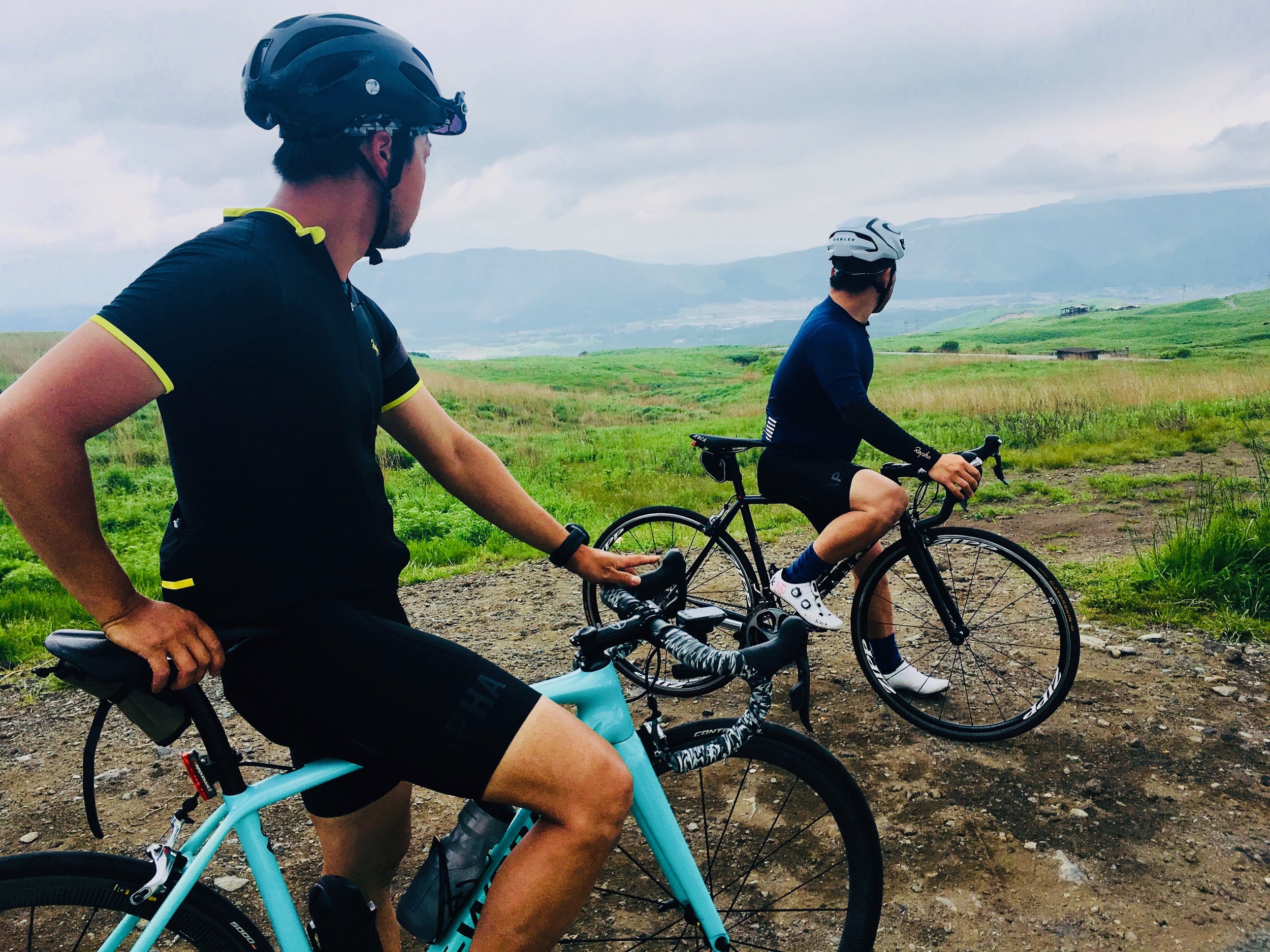 Day 7:
37 km | 1,116 m
Mt. Kuju. Our last day dawned with gusty rain and an increasingly bad forecast. Some headed off for shopping and museums, while others geared up and headed onto the steep slopes for a last day of challenging cycling. Mother Nature threw driving rain and 50+ mph winds at us. It was hard fun, keeping the cranks turning, urging each other on, and grinning through it all. At the summit of Mt. Kuju, we could barely remain upright in the wind, and called it quits due to safety concerns. Our outstanding Japanese staff loaded the bikes up and we headed into the summit cafe for coffee and laughs. Down the hill, a wonderful udonlunch and soak in the hotel onsenwarmed our bones before heading out for a final celebratory dinner. Due to the weather, it was a short 37 km and 1,116 vertical meters climbed, but a challenging one to round out a week of spectacular cycling and cultural enrichment.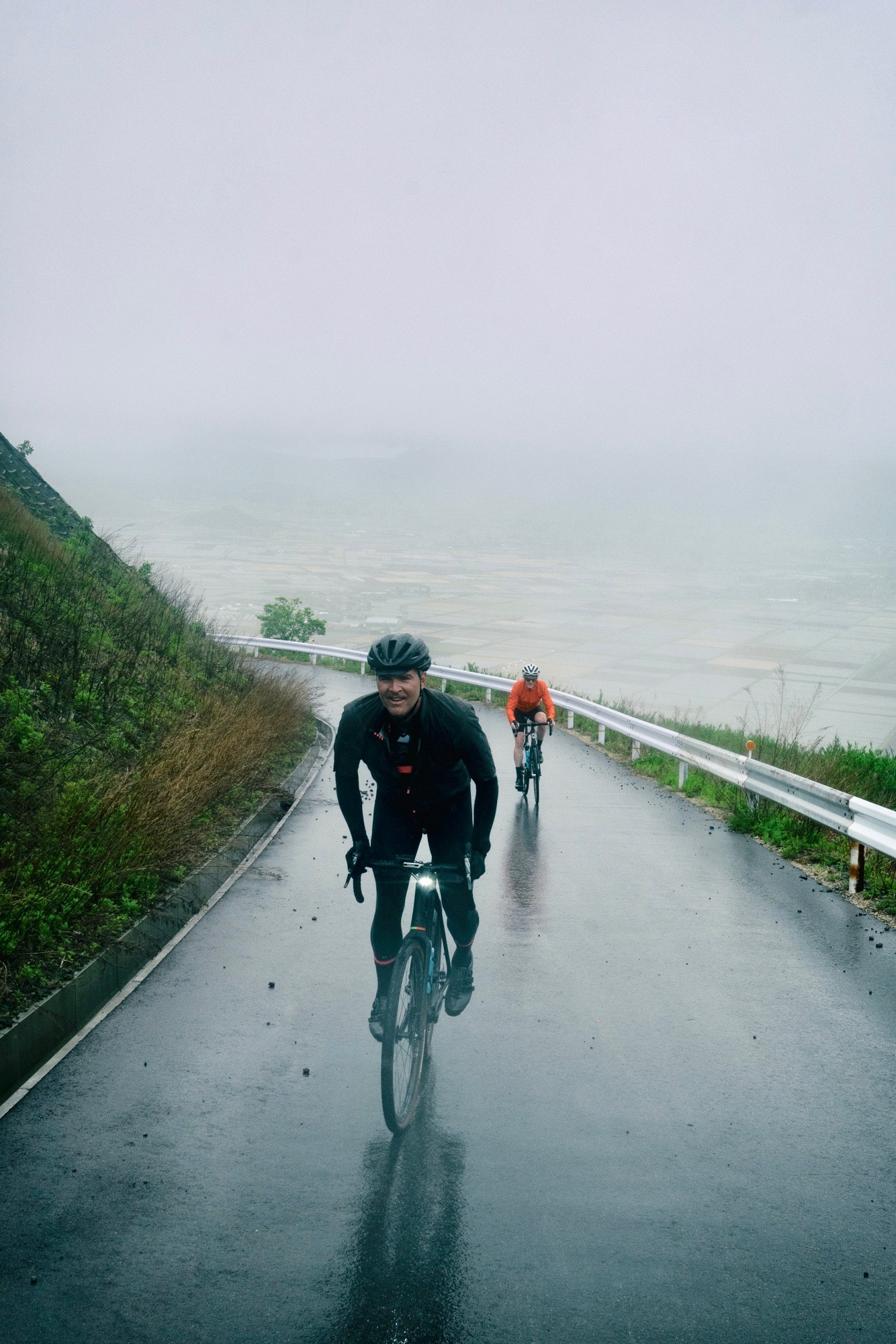 7 Day Total: 473 km | 9,636 m
What a trip! We can't wait to return to Japan. Thank you, SV Japan Guests, you are a fantastic bunch of cyclists and wonderful people. And many thanks to our travel partner, Brad Sauber, and his amazing Japanese staff, who made all of the difference.
We invite you to join us May 10-17, 2020 when we return to Japan. There will be slight changes to our itinerary to help make the trip even more special and memorable. Contact travel@studiovelocycling.com for more information.
Join us September 8-14th for a remarkable trip to showcase the best Corsica has to offer. Over the span of a week, we will ride 420 miles and climb 51k, while enjoying the finest cuisine and lodging the region has to offer.